The DEFIANCE Top Five: Acts of DEFIANCE
Posted by Lance Warner on 16 Jan 2017
Acts of DEFIANCE was a helluva night. We bore witness to the coronation of brand new Onslaught and Southern Heritage Champions, a Bronson Box bloodbath the likes of which we haven't seen in a long time, and a successful FIST defence for current champion Lindsay Troy. A huge night for all involved, and the aftershocks will no doubt be felt for many weeks to come. Uncut 16 is now on the air and DEFtv 77 drops next Tuesday, 24th January, where the fallout will continue.
For now, let's take a look at the night's biggest winners. Who left the building in a strong position than when they walked in, and who gained the most momentum coming out of Acts of DEFIANCE? Find out after the jump...
... More
UNCUT 16 is LIVE!
Posted by Lance Warner on 16 Jan 2017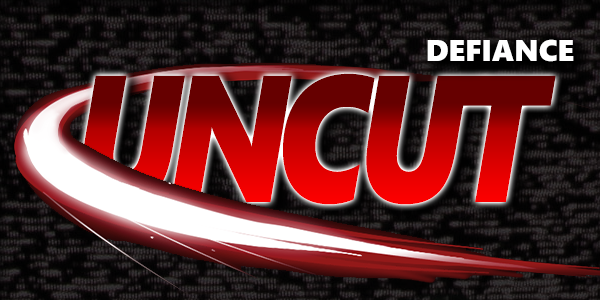 It's been a while, but we're baaaaaaaaack~!
... More
Andy Murray Extends DEFIANCE Contract, Moves Into Backstage Role
Posted by Lance Warner on 12 Jan 2017
After weeks of misdirection, toomfoolery, and all other forms of fuckery, Andy Murray finally got his hands on Perfection at Acts of DEFIANCE. Without Mark Shields around to spoil the party, the elder Murray produced his most dominant DEFIANCE performance yet, and comprehensively shut the skilled technician down in under 10 minutes. As good as Andy looked at the pay-per-view, however, it might be the last time we see him in the ring for a while.
... More
Backstage interview from the night of the PPV
Posted by Lance Warner on 11 Jan 2017
Our own Dave Felcher managed to "catch up" with one victorious competitor who had quite a bit to say about his defeated foe before skipping out on the rest of the show.
... More
In the Shadow of The STORM
Posted by DEFIANCE Spy on 9 Jan 2017
One of the unsung and surprising moments of this past weekends ACTS of DEFIANCE event was a tag team match featuring an impactful victory for a debuting tag team. However, it wasn't the debuting tag team that we expected!
... More
Acts Of DEFIANCE Is LIIIIIIIIIIIIIIIIIIIVE!
Posted by Lance Warner on 8 Jan 2017
IT'S PAY-PER-VIEW O'CLOCK, HUMAN BEINGS!
... More
BREAKING: Mark Shields BANNED From Acts Of DEFIANCE!
Posted by Lance Warner on 6 Jan 2017
Two weeks ago on DEF, Andy Murray made a rare visit to Kelly Evans' office up in the Pleasure Dome to call in a couple of favours from the boss lady.
The first? A made against Perfection at Acts of DEFIANCE, DOC rules.
Evans was quick to sign-off on this, but feed cut away before the second favour could be revealed. We can now exclusively announce, on the eve of Acts of DEFIANCE, that it revolved around Mark Shields: a man who has made life very, very difficult for the elder Murray lately.
... More
---