Biography | Wrestling | Promos | Appearances | Photo Album
Clay Daniels Biography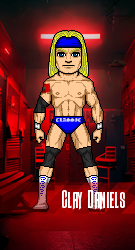 Personal
Real Name
Clayton B. Daniels II
Alias(es)
"Classic" (prefix)
Birthday
23rd April, 1992
History
Biography
Cool, laid-back, and full of southern charm, Clay Daniels was picked-up as part of a BRAZEN scouting mission in early 2017. He's has laid back as they get backstage, but has a clear moral code, and isn't afraid to stand up for himself when tested.
Gimmick
Straightforward, happy-go-lucky southern boy who'll step to you if you get outta line.
Strengths
1. Technique.
2. Spirited.
3. Charismatic.
Weaknesses
1. Heart leads head.
2. Hasn't yet learned to use his large frame as a weapon.
3. Perhaps too chilled at times.