Biography | Wrestling | Promos | Appearances | Photo Album
David Race Biography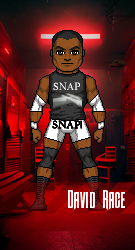 Personal
Physical Description
African-American. Dark-skinned, lightly-trimmed goatee, bald head. Brown eyes. Constant sneer across his face. On the taller side and with a developed musculature.


Gimmick
One third of BAD with Tripp Wise and Davis Bloome. Known as the "Arms Collector" for his penchant for arm submissions. Cold, calm, collected and quietly dangerous. Possesses a snarky exterior when approached.
History
Biography
"The Arms Collector" David Race.

A once-proud young technician touted for great things. Five years later, those great things never came.

He's through playing nice.

Supplementing his income by using his exceptional skills to injury opponents and break bones, all the while with a smile on his face.