Biography | Wrestling | Promos | Appearances | Photo Album
Lisil Jackson Biography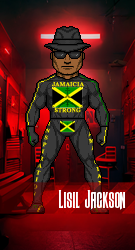 Personal
Alias(es)
The Jamaican Inspiration, The Jamaican Ninja Warrior
Hometown
Kingston Jamaica
History
Gimmick
Lisil Jackson is a kind hearted fella. He always preaches about how one can be a better person and make a difference in the world. He doesn't care if people blow him off or disrespect him. What matters to him is touching that 1 person and inspiring them to make a better tomorrow. He is a very upbeat and jovial person with lots of energy. Some people may go as far as to say it's borderline sickening with how positive he is.
Strengths
Extremely agile for a man his size.

Deadly variety of kicks.

Dangerous Mixed Martial Arts submissions.
Weaknesses
Refuses to cheat

Lives by a certain set of morals

DO NOT MESS WITH LISIL JACKSON'S FEDORA!!!!!!