BRAZEN Presents: Dat Charity Tho!
Posted by Lance Warner on 3 Oct 2018
---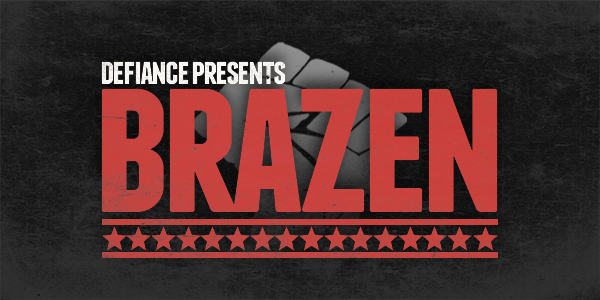 This past Saturday night, DEFIANCE sponsored a local event in Lake Charles, LA's own William X. Davis Memorial Armory. Entire families were welcome to see the big event featuring the up and coming BRAZEN talent. Check after the jump for the results!
BRAZEN LIVE PRESENTS
DAT CHARITY THO!
William X. Davis Memorial Armory
Lake Charles, LA
Date: September 29th, 2018
Attendance: 826
The proceeds from tonight's show would be matched dollar for dollar by DEFIANCE and would be donated to several local charities in the area dedicated to fighting homelessness.
Before the show, fans lined up for an autograph signing by several DEFIANCE main roster talents including former FIST of DEFIANCE Oscar Burns, former SOHER Champion "Sub Pop" Scott Douglas and current World Trios Champs, The Pop Culture Phenoms (and of course, Elise Ares!)
1. Thomas Slaine vs "Wingman" Titus Campbell
--"Wingman" won over the crowd quickly with a high energy entrance, but was attacked at the bell by Thomas Slaine.
--The brawler surprised him with a Suicide Dive, then a Hanging DDT, but Campbell fought through and DECKED him with a Discus Punch!
--Titus connected with The Hookup (Elevated Double Underhook Facebuster) for the win!
WINNER: Titus Campbell via pinfall with The Hookup at 4:23
2. Brutal Attack Force (Solomon Garrett and Petey Garrett) vs. Thugs 4 Hire (Emilio "The Pigeon" Boyd and Hurtlocker Holt)
--Prior to the match BAF complained about how WrestleFriends cheated at DEFIANCE Road, but before they got too far, T4H came out to shut that down.
--Boyd and Holt collected donations for a beating from the fans, then exacted said beating on BAF!
--After a slugfest at the start, Boyd got worked over by BAF with arm submissions, but a Samoan Drop for Petey and WINDUP Punch for Grendel let him tag Holt!
--Holt was a freight train knocking over everyone. A Stalling Suplex on Garrett led to Business Is Good (Doomsday Device) for the victory.
WINNER: Thugs 4 Hire via pinfall at 5:45 with Business Is Good (Boyd over Garrett)
3. Sho Nakagawa vs MDM IV vs. Butcher Victorious vs Gunthder Adler
--The four corners match featuring three of BRAZEN's premier high flyers, along with a returning 6'5" and 310-pound Gunther Adler.
--All parties ganged up on Adler to start and bombarded him with dives on the outside!
--The match broke down quickly when Sho and MDM exchanged pinning combos. Butcher almost got the win with the Violet Crown (Blockbuster) but Adler came back and POWERBOMBED Butch onto the fallen Sho!
--MDM found himself in the clutches of Adler's Dangan Bomb and Adler picked up a dominant win!
WINNER: Gunther Adler via pinfall at 7:04 over MDM IV via Dangan Bomb
4. Cristiano Caballero vs. Rich Mahogany (w/Don Hollywood)
--The crowd loved Rich's antics... Cristiano did not. After covering himself in baby oil, Caballero had a hard time literally holding him in any moves.
--Rich annoyed the pretty boy by messing with his face until Caballero nailed him with The Pretty Sight (Jumping Side Kick)!
--Caballero worked over Rich's back until he connected with a Diving Seated Senton. Rich almost got the win with a Schoolboy, but Cristiano landed a Tiger Driver into the Spanish Inquisition for the tapout!
--Post match, Cristiano mentioned all the BRAZEN talent who have been on TV... promising he'd right a wrong sooner than later.
WINNER: Caballero via submission at 7:50 with the Spanish Inquisition
5. Howlin Joe Wolfe vs. Lord Sewell
--Lake Charles's own Howlin' Jow Wolfe with the biggest pop of the night! And Lord Sewell with the biggest jeers by calling him and the town, quote, "bottom-dwelling algae eaters.
--Wolfe beat him pillar to post for that in the first few minutes, but Sewell rammed his fist into the ring post and worked it over expertly.
--Joe fought through the pain and landed a Flying Lariat and Diving Elbow Drop for a big two-count, but Sewell went back the arm. An Armbar almost got him the win until Wolfe busted out a new Wrist Clutch Fisherman's Driver! The New and Improved Wolfe's Bane won him the match to much applause!
WINNER: Howlin' Joe Wolfe via pinfall at 8:25 with New and Improved Wolfe's Bane
6. No Justice, No Peace (Neighborhoodlum, Roosevelt Owens and Theo Baylor) vs. Barrio Boys (Gerardo Villalobos, Corey Nunez and Hugo "Lips" Gonzalez)
--The Barrio Boys led the crowd in a chant of "Don't be an abuela, stay in escuela!" NJNP interrupted.
--The Trios DEFBowl winners made no bones about taking Barrio Boys to task early. Try as they might, the combined force of the trio was tok much for them to handle.
--Big Rosey and Neighborhoodlum finished off Hugo Gonzalez with Stoop Stomp/Big O combo! (Curb Stomp followed by Running Splash)
WINNER: No Justice No Peace at 4:51 via pinfall
7. Trios Titles: PCP (c) (The D, Klein, Flex Kruger w/Elise Ares) vs. Viking War Cult (Torvald, Ivor and Floki Holmstrom w/Cul)
--Big Torvald replaced Cul for the Viking War Cult, hoping to get the Trios belts back by PCP.
--The PCPs were treated like stars (dur) and after a few minutes of The D and Klein taking Ivor to task, Torvald changed the game quickly with sheer size.
--The D was worked over by three men (hiyo!) but after taking too much abuse, The D penetrated their tag game and pulled out to tag Flex Kruger!
--Kruger went wild on the Holmstrom Twins with suplexes and slams, then NARROWLY avoided defeat from Torvald's Side slam! Kruger came back and with Klein's help the two Pop Culture Powerhouses double suplexed him!
--One Drive-By At The Roxy later for Ivar and the champs retained to a huge ovation!
WINNER: And STILL World Trios Champions, Pop Culture Phenoms at 14:39
8. BRAZEN championship: Reinhardt Hoffman vs. Levi Cole vs. Kerry Kuroyama
--The main event pitted Hoffman against long time rival "American Made" Levi Cole, along with recent DEFIANCE Road PPV winner Kerry Kuroyama.
--Action was all over the place between the three men, including suplexes a-plenty by Cole, EuroCuts by Hoffman and a few drops thrown in by the man named (not really) Keurig.
--Hoffman was taken out courtesy of the Kuroyama Driver (Pumphandle Emeral Fusion), but Cole broke it up with a Huge delayed German that ALMOST won the match!
-Finish came when Cole locked in the Liberty Lock, but Hoffman ingeniously laid on Kerry's shoulders and pinned him for three, stealing the win and retaining the BRAZEN Championship!
WINNER: And STILL BRAZEN Champion, Reinhardt Hoffman at 19:58 via pinfall on Kerry
After the show, Hoffman grabbed the mic and DEMANDED that both Kerry and Cole raise his hands and acknowledge him as the smarter man and the better wrestler. When they refused to placate his crowing, Hoffman tried attacking Kerry with a belt shot, only to get German Suplexed by Cole, followed by Kerry hitting him with the Kuroyama driver!
After the show, Howlin' Joe Wolfe was invited back by Cole and Kuroyama to greet his hometown crowd and announce the money made for charity!
All in all, another great night of BRAZEN action!
---
Related News
11 Dec 2018
4 Dec 2018
26 Nov 2018
21 Nov 2018
12 Nov 2018
Backstage 3.1