Biography | Wrestling | Promos | Appearances | Photo Album
Archer Silver Biography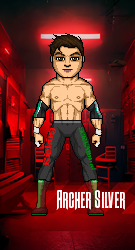 Personal
Hometown
Portland, Oregon
Birthday
January 20th, 1997
Physical Description
Brown hair styled in an undercut (long hair on top, shaved sides). Slight soul patch. Piercing blue eyes from his dad. Shit-eating permasmirk from his uncle. J-j-j-jacked, Austin Theory style body type.
Gimmick
Member of Les Enfants Terrible. Nephew of PRIME Hall of Famer and all-round shitbag Sonny Silver, son of big-time Gaijin star in Japan, Steven Silver. Got into the wrestling business despite his father's objections and dropped out of school senior year to pursue wrestling. Archer is a true natural of the sport and is in prime shape, but an equal opportunity asshole. Thrives on causing trouble for everyone around him. Known as The Prince of Pricks and as "Kicking and Screaming" because those are his two favorite things.
Ring Attire
Black pants-length trunks with "kicking" down the right side and "screaming" on the left (Kicking in red, Screaming in Green). Black boots with kick pads that will be in a variety of colors just cause he feels like it. White taped knuckles and wrist tape. Black elbow pads.
History