Biography | Wrestling | Promos | Appearances | Photo Album
Cyrus Bates Biography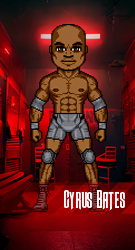 Personal
Real Name
Cyrus Ezekiel Bates
Alias(es)
Bellicose Brawler, Keyboard Warrior
Hometown
Forth Worth, Texas
Birthday
October 20, 1990
History
Biography
Cyrus Bates was a former powerlifter until his integrity came into question. Devastatingly hurt over certain allegations, Bates turned to social media platforms on the internet to prove his innocence. Instead, he became consumed with derogatory bashing back and forth.
Other Fed Awards
Ranked No. 87 in TEFP Top 100 in 2020
Gimmick
The single most important question one person can ever ask is; what is the most dangerous place on the internet? The answer? The comments section. This is where the darkest, seediest, most morally depraved individuals flock to shred anything and everything to pieces. This is what caused three otherwise seemingly ordinary members of society to band together and create the group simply known as the Comments Section. There is always a comment to be made by this relentless, unfiltered, rude, and arrogant band of snowflake generation representatives. In fact, it is their goal to complain about everything and recruit as many keyboard warriors as possible.
Strengths
-Powerhouse
-Confidence
-Size
Weaknesses
-Lack of agility
-One dimensional
-Prone to fatigue