Biography | Wrestling | Promos | Appearances | Photo Album
Lord Sewell Biography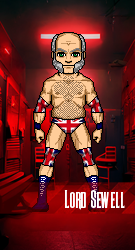 Personal
Real Name
Viscount Vice Admiral Ernest Sewell
Alias(es)
The Elder Technician
Hometown
Long Melford, England
History
Biography
Tough, former Royal Navy badass who has finally made the leap to the DEFIANCE roster after serving as a part time player-coach role. Lord Sewell looks like Uncle Albert from Only Fools And Horses, except he's in his early 40s and he has muttonchops instead of a full beard. He's not going to be setting any fires in regards to the speed of his in ring work, but what he does is effective and punishing. One half of Gentlemen's Agreement with his protege Oliver Tarquin Monroe.
Other Feds
Various independent promotions across the UK and US
Other Fed Titles
Various independent titles across the UK and US
Gimmick
Will always use his full name, Viscount Vice Admiral Ernest Sewell, but everyone calls him Lord Sewell. Legit background with four years in the Royal Navy. It shows in his overall demeanous and presence.


Strengths
Solid technician
Methodical
Cutthroat
Weaknesses
Not good against flyers
Up there in years
Slow