Biography | Wrestling | Promos | Appearances | Photo Album
Nathan Eye Biography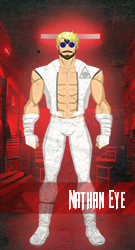 Personal
Real Name
Nathaniel David Eye
Alias(es)
The Handsome Face, Natty Eyce, The Lover and the Fighter
Hometown
Baton Rouge, Louisiana
History
Other Fed Titles
BRAZEN Championship, BRAZEN tag team championship
Gimmick
The loud and proud pretty boy that can not only talk the talk, but has proven in his brief Brazen tenure that he can also walk the walk. He isn't arrogant or flaunting his good looks in your face. He is confident in who he is, confident in his abilities and he genuinely loves to have a good time. Some people are lovers and some people are fighters but Nathaniel Eye is both! He is a former multi sport athlete in college in both baseball and boxing.

Achievements: BRAZEN champion, Brazen Tag Team Champion and Tag Party II winner with Dex Joy
Strengths
- Athletic: He is a real blue chip athlete and a prodigy of the ring in just four years. He is powerful, fast and can fly pretty well

- Confident: For a kid with only four years of experience to his name, he is very confident and even if he takes losses, he doesn't shake easily.

- Well liked: the fans like him because of his flamboyant attitude, style, and fighting spirit
Weaknesses
- Constantly proving himself. Nathaniel will look for just about any chance he can to impress the fans, fellow wrestlers and even his best friend Dex Joy.

- Dumb decision maker. Because he is early into wrestling he can still make rookie mistakes.

- His face. He isn't the type of guy that will flee when he gets hit in the face, but he does sometimes go out of his way to protect it more and that can leave him wide open for another attack.
Quotes
You can't stop me!
Hey... Eye's up here!