Biography | Wrestling | Promos | Appearances | Photo Album
Eddie Cheno Biography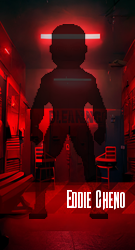 Personal
Birthday
April 25th, 1970
Physical Description
Large blue afro, large four foot bong to his side, dressed in a sharp suit.
Gimmick
A former boxer who fell on hard times and became homeless. Almost robbed the man who would run the Asylum Joe Campbell, almost killed him. Years later, Eddie Cheno, homeless, came into contact with Jack Harmen, then known as High Flyer. He became his babysitter and pseudo body guard. After, Eddie Cheno went to the Asylum and became a fighter, where death was on the line every night. Cheno turned states evidence, causing the Asylum to go further underground. So, Cheno downed a cape and a cowl and became BatMang, before the Asylum's eventual dissolution.

Cheno is BRAZEN's R-Truth.
Ring Attire
His wrestling attire resembles that of an old school boxer, mesh sports shorts that cling to the thighs. Clover gloves, think MMA.
History