Biography | Wrestling | Promos | Appearances | Photo Album
Kerry Kuroyama Biography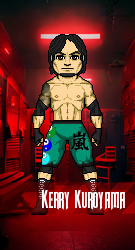 Personal
Alias(es)
The Pacific Blitzkrieg
History
Biography
Kerry Kuroyama is a third-generation wrestler, being a member of Japan's Kuroyama wrestling family. He has studied and been training in professional wrestling since he was a teenager, and always dreamed of bringing fame and esteem to his family legacy. In 2010, at the age of eighteen, he graduated from Rocko Daymon's DOJO Wrestling & Fitness Academy and began his career in the Seattle-based International Wrestling Federation, where he would meet and befriend fellow Seattle wrestler "Sub Pop" Scott Douglas. In the years that followed, Kuroyama cut his teeth in various indie wrestling and MMA federations in both the state and Japan, enjoying a brief tenure in New Frontier Wrestling where he quickly established himself as a potential up-and-comer.

In 2016, Kerry Kuroyama arrived in DEFIANCE as part of the tag team Rain City Ronin, with his trainer and mentor Rocko Daymon serving as a partner. After Daymon's sudden and unforeseen disappearance, Kerry reacquainted himself with Scott Douglas, and the two soon formed Seattle's Best, becoming one of the company's most prolific and adored tag teams. As the two engaged in frequent battles with the Kabal, Kerry's career was nearly derailed when his right knee was shattered by Tyler Fuse on behalf of the group's leader, Stalker.

Upon returning, Kuroyama suffered a long, heartbreaking losing streak which almost caused him to give up on his wrestling career. After returning to Seattle and doing some "soul searching", Kerry has returned to DEFIANCE, more driven and determined than ever to add to his legacy.
Gimmick
No-nonsense pure wrestling athlete and business entrepreneur, single-mindedly obsessed with building a legacy of greatness by winning his matches, expanding his wealth and influence, and defining himself as the undisputed greatest wrestler of all time.
Strengths
1.) Adapts well to changing situations in the ring, and can always chance up his strategy or approach depending on how the match plays out. He is never without a back-up plan for any contingency or unforeseen set of circumstances.
2.) Intensely focused on winning the match through any means necessary. He keeps his emotions in check, ignores distractions, and always goes for the most direct and straightforward means to score the pinfall or submission. He isn't there to be flashy or get into pissing contests; he's there to WIN.
3.) Recently added 15 pounds in muscle mass, improving his strength and conditioning. He's become a well-oiled suplex machine, not shy about using brute force to drop his opponent on the head enough times to keep them down for the three.
Weaknesses
1.) A little less fan friendly than he's been in years past. There's less baby in his face, and more serious, results-driven adult. It's clear that he's more interested in his career and the pursuit of accomplishments than appeasing the fanbase.
2.) Overly ambitious, and has a tendency to sometimes look past opponents or underestimate their will to fight. He can get a tad impatient or even annoyed when a match doesn't end as quickly as he'd prefer, leaving him susceptible to the out-of-nowhere comeback.
3.) The right knee has taken a considerable amount of punishment over the years, and can be considered his weakpoint. He always predictably protects it, and would sooner tap out if targeted by a seemingly inescapable submission hold rather than risk injuring it yet again.