Biography | Wrestling | Promos | Appearances | Photo Album
Malak Garland Biography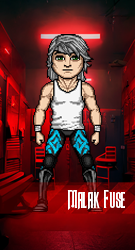 Personal
Real Name
Malak Jonas Garland
Alias(es)
MagnumG1999, Mouthpiece, Keyboard King, Keyboard Master, The Source of Envy, Social Media Savant, Armchair Expert, Thirst Trapper, Grammar Grappler, Snowflake Superstar
Hometown
Cheyenne, Wyoming
History
Biography
Malak Garland grew up in a town where not much took place. He was often left to his own devices to find entertainment sources, which ultimately led him to the underbelly of the internet. He soon noticed his trolling abilities were unmatched and allowed his addiction of upsetting people online to fuel his passion to pursue a career in entertainment.
Other Fed Awards
Ranked No. 24 in TEFP Top 100 in 2020, Ranked No. 15 in TEFP Top 100 in 2021
Gimmick
The single most important question one person can ever ask is; what is the most dangerous place on the internet? The answer? The comments section. This is where the darkest, seediest, most morally depraved individuals flock to shred anything and everything to pieces. This is what caused three otherwise seemingly ordinary members of society to band together and create the group simply known as the Comments Section. There is always a comment to be made by this relentless, unfiltered, rude, and arrogant band of snowflake generation representatives. In fact, it is their goal to complain about everything and recruit as many keyboard warriors as possible.
Strengths
-Excellent complainer
-Can keep track of multiple text threads at once
-Covert at cheating
Weaknesses
-Overly arrogant
-Easily distracted by phone
-Underestimates everyone
-Feelings get hurt easily
Quotes
I have no qualms going to HR with a complaint!
I'm usually not one to stir the drama stick BUT...
FIRST!
Wow, lots to unpack here.
Let's start a dialogue about this.
AVALANCHE!
My anxiety is rising! I need my safe space!