Biography | Wrestling | Promos | Appearances | Photo Album
Strong AF Biography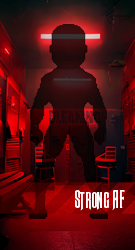 Personal
Birthday
September 19th, 1986
Physical Description
Black, short-cut hair. Blue eyes. VERY chiseled bodybuilder's physique (think a younger Paul Orndorff).
Gimmick
Real Name Allan Fosters. Rookie powerhouse from Seattle getting a sort of late start in the game at age of 33 compared to the majority of his peers. Former Olympic-level powerlifter who competed in the 2016 Summer Olympic games, winning a Silver medalist at the event. After leaving the sport a little over a year ago to pursue a career in wrestling, Allen Fosters signed up with DEFIANCE and inked a deal in February 2019 to compete in BRAZEN. Given the nickname "Strong AF" by a few buddies in weightlifting which became his in-ring name. After a year of training and a few months working dark matches -- including
a very notable house show match against former two time FIST of DEFIANCE "Twists and Turns" Oscar Burns -- he is now a member of the BRAZEN roster.

OOC: This is like the Tom "Megaman" Magee of BRAZEN.
Ring Attire
Black wrist tape. Blue elbow pad on left arm, red elbow pad on right arm. Black sleeveless shirt with "AF" on the front in a red/blue Superman-style logo, black pants and wrestling boots.
History