Biography | Wrestling | Promos | Appearances | Photo Album
Uriel Cortez Biography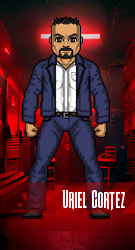 Personal
Real Name
Uriel Ramirez Cortez
Alias(es)
The Titan of Industry, DEFIANCE's Deadliest Hands
Hometown
City of Industry, CA
Birthday
September 10th, 1988
History
Biography
Uriel Cortez grew up in the City of Industry, California. Living in a poor suburb with only a partially-deaf single mom, there wasn't much to his youth outside of the fact he was often left as an outcast for his size. Through high school and college, he was often pursued by coaches in basketball and football but had no interest in either sport. The fact he dropped out of college entirely didn't help, either.

Through most of his early twenties, Uriel made the most of his size by working for a number of private security jobs to make ends meet, often keeping the riff-raff away from movie and TV stars, musicians and every so-called famous person that could afford him. Then one day, along came Junior Keeling at a club Uriel was bouncing for, trying to schmooze a rising MMA star to join The Family Keeling Talent Agency. He met Uriel and talked him into joining the group.

The end product of a year and a half of wrestling training funded by The Keelings led into the giant breaking through into DEFIANCE. He went undefeated for almost an entire year before being stopped in a FIST Championship match against "Twists and Turns" Oscar Burns. Following that, what started as an unlikely partnership with the luchador (and BRAZEN Graduate) Minute turned into a brotherhood as the Sky High Titans. The two men enjoyed two reigns as the Unified Tag Team Championships, defeating some of DEFIANCE's top teams in history including The Fuse Bros 360, The Stevens Dynasty, Team HOSS and The Pop Culture Phenoms. Eventually, Junior Keeling turned on them to form his own talent agency, Better Future. After months of trying (and with the help of another BRAZEN Graduate, Titaness), they finally got Thomas Keeling alone in a ring and laid a beating on him he soon wouldn't forget for all his past transgressions.

Now... the sky is the limit for the new trio. No more Sky High Titans.

Los Tres Titanes stands tall.
Other Feds
Dabbled in a few small independents here and there before his formal debut in DEFIANCE, wrestled in Mexico as well under two identities of Dude In Mask II and Diamante Gigante
Gimmick
The man known as The Titan of Industry was giant plucked from relative obscurity by The Family Keeling to become what they describe as the pinnacle of professional wrestling's highest standards. A true professional in every sense of the world. Everything he does is considered champion calibur (their words exactly) from the way he dresses, speaks, and how he conducts himself in the professional eye. He has spent the last year and a half being set up with various training regimens and programs for this DEFIANCE run.

Nowadays, Uriel Cortez has mellowed out to be more of the suave businessman mentality that the Keelings have ingrained (see 2005 Batista), but clearly has a sense of honor and respect for his partnership with Minute, along with his budding relationship with Titaness/Holly Aldaine.
Strengths
Big as shit. See above. It only takes a couple moves for him to turn the tide of and quite possibly even end a match. Especially lately as he has employed a dangerous variety of big man chop-style offense.

Explosiveness. Uriel has shed some lbs from the few years he has been in DEFIANCE and is arguably in the best peak of his career physically. He has slimmed down and has been a more explosive opponent (See: Braun Strowman, Big Show). The occasional explosive burst of speed or surprising move someone his size should not be able to do.

New relationships. His BFF Minute and his girlfriend Titaness give him something now worth fighting for, so he has been far more motivated than he ever has after casting Tom Morrow/Junior Keeling loose from his life.
Weaknesses
Perhaps too emotional at times. He really cares about his group so if someone picks at him, he can lose control.

Stamina/Long matches. He's a fucking large dude, but stamina is always going to be a weakness for him.

Predictable. His skillset isn't too deep and generally has the same gameplan for anybody regardless of opposition. Wise'uns can deduce strategy after a few of his matches.

Quotes
We're here to kick your ass and look good doing it, too.
That's called the art of the deal, my friend.