Biography | Wrestling | Promos | Appearances | Photo Album
Calico Rose Biography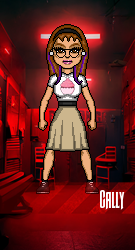 Personal
Real Name
Rosalyn Callasantos
Nicknames
Cally, The Bartender
Hometown
Park Slope, Brooklyn
History
Biography
When Rosalyn Callasantos was five, her home burnt down, her brother died in the blaze, and she and her father both suffered severe lung damage.

When she was nine, her father died from his lung problems.

When she was fourteen and being bullied at school, Randall Knox stuck up for her and, for her, it was love at first sight. She started going to the gym where he was training to become a wrestler, mostly to be around him but partly because the right type of exercise strengthens the lungs.

At seventeen, she graduated from high school and started tending bar - a job she continues to hold to this day, but on her twenty second birthday, a present from Knox - being in his corner during a match in the FWO - pushed her from being a spectator into an active role.

She has lung problems to this day so she does not do much in the way of match interference; to that end she has been labeled 'NO TOUCH' by every company she's worked for. Without that ability, she does her best to be a positive force in the dressing room and arena, always looking to go out and meet fans at promotional events, bringing baked goods for the boys, etc.

She's a total goofball who just wants everyone to be happy and be friends.
Quotes
Blow it up!
I will totally touch your butts.