Biography | Wrestling | Promos | Appearances | Photo Album
Cayle Murray Biography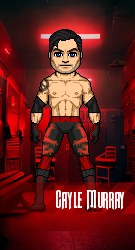 Personal
Real Name
Kalen Alexander Murray
Hometown
Aberdeen, Scotland
Birthday
31st March, 1984
History
Other Feds
UTA, OCW, FUSE.
Other Fed Awards
UTA: Most Popular Wrestler 2015, "One to Watch" 2015, Feud of the Year 2015 (w/ Colton Thorpe)
Gimmick
Classic "code of honour" babyface.
Strengths
Athleticism: excellent speed, stamina and agility. Sets a blistering pace that many struggle to match.

Offence: hard-hitting, impactful offence that when combined with his speed can flatten multiple foes within a few seconds. If he finds a rhythm, you're in trouble.

Heart: gritty, determined and ready to bite down on his mouthpiece and go through hell to secure a victory. He's never out of a fight mentally.
Weaknesses
Morals: lives to set a positive example and adheres to a strict moral code, regardless of the consequences.

Emotional: often lets his heart lead his head.

Size: an advantage at times, but one big power move from a gigantic bruiser is going to give him nightmares.