Biography | Wrestling | Promos | Appearances | Photo Album
Dan Ryan Biography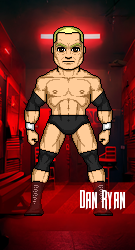 Personal
Alias(es)
"The Ego Buster"
History
Biography
Dan Ryan was born on May 1st, 1976. Ryan grew up in a normal
middle class home. His father was a semi-well-to-do Environmental Engineer, his mother was a school teacher. Graduated in the upper third of his class in high school and excelled as an amateur wrestler. Ryan was offered several scholarship oppurtunities to major universities to compete in their wrestling programs.

However, his family was transferred to Japan as part of his father's job and he chose to go with them. While there, he took up with training in various martial arts and became most interested in various submissions and joint-locks. Eventually he took up with a wrestling company who agreed to train him based on his size and physical acumen for the sport. It was also during this time that Ryan fathered a child by a girlfriend he had met in Japan.

The girl's family would not condone the pregnancy or the relationship and when the child was born, insisted that Ryan and his family raise the child. After a little more than a year in training and a few small successes in the Orient, he moved back to the states with an offer from New Breed Wrestling.

Began his North American wrestling career in 1997 simply as "The Ego Buster", winning the NBW Television title twice that year. Became known for his interview skills and propensity for aerial maneuvers despite his large frame. Won the U.S. title, the World Six Man Titles and two NBW World titles in 1998 as a member of a stable known as the Hardcore Mafia. NBW closed temporarily and was reborn as NthWA. It was during this time that Ryan developed a rivalry with Gabriel Poe that lasts to this day.

It was during this time that Ryan also made an appearance in the EMWA (OOC: angle based fed) and proceeded to gain a reputation for being ruthless and calculating. Ryan formed Team Phenom there along with "Phenomenal" Frankie Scott and then brought the stable to the NthWA, where he won the World title on two occasions. Ryan joined EWI at the invitation of owner Erik Zeiba during this time also and for the first time came into conflict with Eddy Love. Ryan was a part of a memorable angle that year that culminated in the kidnapping of Love and Ryan winning the EWI Federation Championship. NthWA closed for a short time during Ryan's first World title reign and when it reopened, Owner Chad Dupree declared the title vacant.

Ryan was furious and turned on Dupree, refusing to follow through on bookings and declaring that he would no longer perform to put money in Dupree's pockets. "The Ego Buster" thus died and was replaced by "Dan Ryan"....as Ryan used his real name in the ring for the first time. Ryan managed to win the title for the second time and held it until the fed decided to merge with EWI to form GXW. The feud carried over to GXW where Team Phenom vs. Dupree raged for the better part of a year. Ryan helped Kevin Powers win the inaugural GXW Unified World Title and formed the new Team Phenom. "The Hero" Marcus Johnson defeated Powers, and Ryan subsequently chased Johnson for the final six months of 2001. Ryan finally defeated Johnson for the GXW Unified World Title on January 13th, 2002.

However, that date would be remembered for another reason as it was later revealed that a phone call on that night, in which fans saw Ryan turn a ghostly white before stumbling wildly out of the arena was the call in which Ryan was informed that his daughter and parents were killed in a car wreck. Dupree, unaware of the nature of the call....forced Ryan to defend his title, continuing their feud. Ryan managed to hold the belt through several defenses but eventually dropped the title three weeks later to "Executive" Eric Edwards. That same night, Dupree was given a video tape of the news report from the night of the accident, which Ryan had never spoken about publically. Thus, the reason behind his weaker performance was revealed.

Ryan was befriended, though reluctantly on his part....by Nate "Zero" Logan. Logan convinced him to channel his anger and feelings of loss into his career. Ryan violently attacked "Hellfighter" Michael Schutt and soon thereafter regained the GXW Unified World title from Edwards. Ryan went on a rampage, dumping co-Team Phenom founder Frankie Scott and savagely attacking him, tossing him out of an arena into the rain. Ryan held the title for ten months, finally relinquishing it to Nate "Zero" Logan in a match in which a returning Frankie Scott cost him the title. Earlier that summer, Ryan came into the knowledge that former EWI World Champion and GXW wrestler Evan Aho, who had left the company of bad terms was planning a one night surprise stint on a GXW show.

Ryan, taking it personally interrupted the match....attacked Aho and made a famous shoot on the CSWA World Champion and CSWA in general that infuriated CSWA owner Chad Merritt. Ryan showed up on an edition of CSWA Television the next week to interrupt an Evan Aho title defense, but was intercepted by Hornet. Thus began the GXW invasion. Over a period of six months Ryan fought "for GXW", but it was soon revealed that he was after Evan Aho only.

Once he defeated Aho, Ryan turned on his GXW cohorts and at CSWA's Battle of the Belts earned a shot at the CSWA World Title by first winning a "GXW" elimination match, then a battle royal by tossing out Shane Southern. On an edition of Showtime in Seattle, WA Ryan got his shot at Mark Windham and won the match and the title in controversial fashion as the lights in the arena went out on the referee's count of three.

Despite past conflict with Craig Miles, Ryan was invited to battle for the Ultratitle in the new NFW. Ryan turned down the request initially due to an over-abundance of wrestling commitments, but soon thereafter thought better of it and put his name in the hat. While there, Ryan took on Lindsay Troy as manager and has remained at or near the top of the standings. In 2004, Ryan went into the business of federation ownership by starting up Empire Pro Wrestling. In that venture he has developed some tension between himself and A1E star Beast. Once Lindsay Troy's sister Alaina was attacked on A1E PPV, and becoming quite protective of Lindsay, Ryan made his way to the A1E roster. The circumstance also resulted in a relationship with Alaina Troy, their eventual marriage, and the birth of a daughter, Cecilia. After a summer-long stint in the fed, Ryan left to return to the FW.com circuit and tread once again in new territory as part of The Inner Circle with Maelstrom, Lindsay Troy and Christian Sands in WFW. Following NFW's Season 1, which saw Ryan more intent on settling personal scores - he returned to the East for season 2 - his motives a mystery.

After reaching a point where a schedule resulting from holding four World Championships concurrently pushed him to a point near burnout, Ryan took some time off. During that brief time away from active competition, Ryan focused on running Empire Pro Wrestling. After nearly a year away, Ryan returned to NFW to take up his quest to reclaim the NFW World Title. He failed to win the belt, taking NFW World Champion Castor Strife to two time limit draws.

2012 saw the birth of his second child with Alaina Troy-Ryan and more time off, with the exception being a brief appearance in the 2012 Ultratitle.




Other Feds
CSWA, NFW, TEAM, A1E, EUWC, NBW, NthWA, EWI, GXW, SCW, NAWA, MBE, WFW, others
Other Fed Titles
World Titles: CSWA - 3 (World, UNIFIEDx2), NFW - 1, A1E - 2, NBW - 2, NthWA - 2, GXW - 2, NAWA - 1, VWF - 2, Other assorted titles
Other Fed Awards
ENN 2003 Match of the Year (Dan Ryan vs. Mark Windham, CSWA World Title), ENN 2003 Wrestler of the Year, 2004 ENN 250 #2 Ranking, 2005 ENN 250 #1 Ranking
Strengths
- Ring General

- Big Man Technician

- Power
.
Weaknesses
- Can take grudges too far, to his detriment

- Can occasionally underestimate opponents

- Family attachments
.
Quotes
Tonight we'll BOTH find out how far the other is willing to go. But for you? This is the last time you'll EVER think of me.... and smile.
I'm sorry, but I don't have any wild horses around to complete my motif. If you want, imagine some cow patties in that field over there.
Maybe Oxford doesn't prepare people for such challenging life situations as --- reading the correct city on your itinerary, flying to the proper city for your event. My God, Blaine, you're standing there in your candy cane panties giving me a VERBAL UNDRESSING…… from the wrong city. How did this happen?? Who can you fire?
I like that you speak in metaphors, like a character from Star Trek: The Next Generation. I like it and I only wish you would do it more, because I have 'refers to a match as a miracle of canvas, upon which we brush a tapestry as the Medici's look upon in abject horror, the knowledge that the papal legacy within their blood holds no sway over the inevitability of the destruction to come'…. For five hundred dollars and the points.
I thought the dude who played Huggy Bear in Starsky and Hutch was long gone, lost to the ether as another casualty of gimmicky 70s television. But you gave him a part to play in your promo for a World Championship match, and as they say, any publicity is good publicity.
Calvin, the thing is…. Bandit? Seriously? Your masterstroke is Bandit? To be honest with you, I forgot 'THE BANDIT' was even in the Clan. I forgot completely. I was just about ready to ask Troy why the flute player from Jethro Tull was hangin' around the group, and before I realized who it was, he was gone.
Look at the size of this freakin' house. That's right. As Joe the Plumber alluded to, I have a bazillion homes, each at least two hundred square miles in area. This is one such home. Remember that part of the book of Revelation in the Bible when John gave the dimensions of the city in heaven and described it in miles of length, the walls in miles of height and so on? It might as well have been a studio apartment compared to this. My home has mile markers. That's what I'm sayin', here. I'm not FROM Texas. Texas is inside my house. It's that big. Right now, I'm sitting on a couch in one of two-hundred fifty living areas in this one house alone. Just outside the window is my swimming pool, the Gulf of Mexico. I pay thirty Mexicans to lift my dick for me when I pee.
Do you people know he's STILL complaining about the Intercontinental Title match?? For a history lesson, and boy are we going back to a time of irrelevance here... but the guy, he wanted me pretty bad. He had this whole 'you're beneath me' vibe going while at the same time speaking my name every time he opened his mouth. It's Scott's way of playing hard to get, like we're in third grade and all my insults really means I like him. Then he'd run over and punch me in the shoulder and hide so that presumably I'd then find him and he'd try to kiss me in the bushes.
Oh, and BRA-VOOOO on all of the "Back in the kitchen, little lady' jokes, Bronson. Turns out it's not only your wardrobe that's stuck in the 1920s. Well done on the low-hanging fruit there, you malnourished-looking travelling carny half-wit. For the record, I've always wanted to ask, what's with the stupid wrestle-suspenders anyway? Did you fall into a cave when you were a kid like Bruce Wayne, only instead of a big scary bat inspiring you to fight crime you saw a bearded lady, a strongman, and a clown playing a calliope and you were moved to fight good taste with black and white special effects, ragtime music, and a disturbing and strange desire to roll back women's rights?
Boogie, I've heard some delusions of grandeur in my day, but hot-dog-on-a-summer-sidewalk-and-other-Texas-catchphrases, your delusions take the cake. Actually, your delusions took the whole bakery, leaving it without so much as a speck of flour to cook with. Your delusions are currently involved in a high speed police chase down the Pacific Coast Highway live on CNN with frosting on the corners of its mouth as we speak, is what I'm saying.
"Of course they're happy. Look, if you put 50 kids with Down's Syndrome in a room, there's gonna be a lot of hugging."
"What's wrong, doesn't the career propping teet of Bronson Box come with an extension cord?"