Biography | Wrestling | Promos | Appearances | Photo Album
Dusty Griffith Biography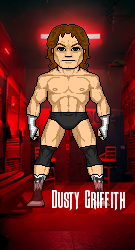 Personal
Alias(es)
The Wild Bronco, The Bad Man from Boise, The Old School Shooter, The Unbreakable Pillar of DEFIANCE
Hometown
Hailing from Boise, Idaho.
History
Biography
A former collegiate football player for Boise State University, Griffith's football career came to an end due to a severe shoulder injury. After graduating, Griffith moved on in life until one day jumping into the world of professional wrestling. Like many before him, Griffith started out in little junk yard indies in the state of Idaho.

His first big break came by complete chance, when he was scouted by fellow Idahoan and pro-wrestling star Jason Ramsey. "The Superstar" was in town on business when he heard of this big kid making waves on the indy scene. Checking him out for himself, Ramsey offered to take him to Japan and train him personally.

Griffith spent the next several years in Japan training and working like any other Young Lion in the Japanese system (a student paying his dues). Griffith garnered the respect of his peers and elders alike for his eager willingness to learn, his sheer force of will and determination, and tank-like toughness. Before long, Griffith would debut in a Japanese ring.

His remaining full time years in Japan were spent as a developing Young Lion. Honing his craft, Griffith also ventured into the world of Mixed Martial Arts for (at the time) Japan's largest fighting organization, OLYMPUS FS. Though he only had a few fights, all of which were super heavyweight "spectacles," Griffith earned a lot of attention back home.

~WORK IN PROGRESS~
Other Feds
WrestleCoast Cascadia; (WfWA) HRW, WCWA; (Japan) Pro-Wrestling ZION, Superstar Pro, Pro-Wrestling DYNAMITE, Pro-Wrestling FURY; (MMA-Japan) OLYMPUS Fighting Summit
Other Fed Titles
WCC Pacific Northwest/International Heavyweight (2007-2008), HRW Manhattan Island (2007), HRW Prestige (2008), WCWA Heavyweight (2008), SPRO Iron Crown Heavyweight (2008), WCWA Tag Team (2008 w/ Frank Dylan James), PPW Tag Team Title (w/ Garrett Bishop)
Other Fed Awards
BATTLEFUSION 2007 Gaijin of the Year, DYNAMITE Free Spirits Tag League Winner (w/ Masakazu Fujimoto), WCWA Tag Team Title Tournament (2008 w/ Frank Dylan James), Summer Games 2008 Winner, WCC Wrestler of the Year 2007-2008
Gimmick
Dusty Griffith is a very cut and dry, take it or leave it sort of person, which tends to rub some people the wrong way (good or bad). He's not flashy inside the ring or a big talker outside of it. His passion is the battle, his desire is the championship, and to those ends he brings a level of honor and respect to the ring that many of his peers lack.

Though his goal is to be the champion, to be the best and strongest wrestler in the world. Dusty is incapable of turning a blind eye to injustice that is all around him. As much as he'd prefer to not be distracted from his goal, he will fight for a just cause at the expense of his ambitions.
Strengths
1. Immense Strength -- It's like retard country boy strong, that's Dusty. He's not the absolute biggest, but he certainly among the strongest.

2. Highly Skilled Big Man -- For a dude running 6 foot 3 at 290+ pounds, he's quite adept at a more a technical / modern style of grappling.

3. Absolute Tank -- The man has an ungodly amount of stamina for a man his size, and ability to absorb equally absurd levels of punishment, allowing him to keep fighting when others would break.

4. Damage Output -- He has become so adept at being able to deliver maximum damage with minimal effort. Be it with suplexes, strikes, submissions, everything he does is done with brutal efficiency.

5. Honor and Respect -- Very much a stickler for the rules, but more importantly, he wouldn't dare show such disrespect as to overlook an opponent.
Weaknesses
1. Bum Shoulder -- An old football injury that ended his chances at a pro career in college. Has a habit of flaring up from time to time and is always an easy target for those who are capable of exploiting it.

2. Hot Head -- Has become more aggressive towards people he views as enemies and will dive head first into impossible odds, even if he has to do it alone.

3. Not For Everyone -- Some love the guy for his code, his honor, his ethics, his willingness to fight the "bad guys". Some, even other "good guys" see him as a blowhard who is stuck in a time long forgotten. This results in him having few friends overall.
Quotes
And I'm telling you right now, little brother, this story of yours? It ends at Aftershock, not because I want the FIST of DEFIANCE. [shakes his head no] It's because I'm tired of this notion that [points at the FIST of DEFIANCE title belt on Euge's shoulder] that belt could ever be the same as this [he says as he holds up the DEFIANCE World Title].
He did promise me a reckoning and I'm still waiting on that to happen.
ABOUT ERIC DANE: He said he would kill for DEFIANCE, and he almost did. I said I would die for DEFIANCE, and I nearly had to. If what he wanted to see out of me was a willingness to go beyond myself, to be ruthless and savage, it's up to him to decide if I measured up. All I know is, I was willing to bleed out, I don't know how much blood I've lost, but, it will always be worth it.
If I can beat Eric Dane, make him tap out, then I can beat anyone... No matter how legendary.