Biography | Wrestling | Promos | Appearances | Photo Album
Rich Mahogany Biography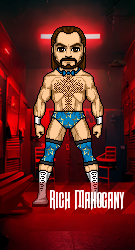 Personal
| | |
| --- | --- |
| Physical Description | Long, beautiful brown hair, smooth, chiseled features, the manliest fu-manchu you've ever seen, and that's just what his face looks like. Rich is a hairy-chested, bronze-skinned God Among Men, and The Ladies can't keep their hands off of him! |
| Gimmick | Rich is the sleaziest of the sleazy, the ladies love him and he Loves The Ladies! |
| Ring Attire | Oddly colored neckerchief with matching banana-hammock, knee-pads, and boots. Often times he'll also wear a matching vest and bow tie to the ring. His favorite color is cornflower blue. |
History
Biography
Rich's mother, born Lexee Stanton, was a stripper in some of the seedier bars in Las Vegas in the seventies. During one of the first pornography conventions in Las Vegas she met Big Dick Gardulo, one of the forefathers of modern pornography on film. He took her back to the San Fernando Valley where not only did she become one of the first widely known porn "stars" under the name Lexxxie Swallows, but she married the smut mogul. Her career lasted from the late seventies to the early eighties. In 1985 she became pregnant by Gardulo. The porn mogul denied the child as his, which led to a nasty divorce in which Lexee was awarded a very large sum of money, one that she and her child still live on to this day.

That child? His name was Richard Peter Gardulo, named for his absentee father, and he would grow up to become the man that we know as Rich Mahogany.

It was a long road for Rich, as he bounced from underwear modeling, to being a local television anchor, to becoming a male stripper, and then finally into wrestling.