Biography | Wrestling | Promos | Appearances | Photo Album
Dandelion Biography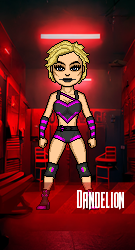 History
Other Feds
VWF, True Experts
Other Fed Titles
VWF Cabo Wabo Middleweight Championship (1), True Expert Interfed Champion (1)
Gimmick
Due to a accident while performing as a young girl. Dandelion lost the ability to speak. Her brother Jestal does the talking for her. She however a expert at facial and body language storytelling

Strengths
She is a innovator and can twist her body in all sorts of forms to perform a series of unbelievable moves
Very fast and can quickly turn things back to her advantage
Great Stamina to survive long drawn out matches.
Weaknesses
Strength - she has a bit but no where near the power of a man
Innocence - Like her brother she enjoys life and especially likes the little things in life like snow cones! This sometimes can distract her from the match.
Can only communicate through sign language.