Biography | Wrestling | Promos | Appearances | Photo Album
Eugene Dewey Biography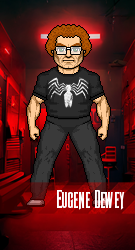 Personal
Hometown
Buffalo, Wyoming
History
Biography
Eugene was born and raised in Buffalo, Wyoming. Like many kids, he was bullied at school, which led to him being very reclusive and shut himself off from the real world by immersing himself in video games.

Over the course of his DEFIANCE career Eugene routinely stood as a pillar for all things right in DEFIANCE, siding with the Good Fight and the White Knights in an attempt to rid DEFIANCE of its ever present evils. After five years of fighting for good Eugene turned his back on his best friend Dusty Griffith, as well as all of the DEFIANCE fans when he unified the FIST of DEFIANCE and the World title, hit Dusty with a post match Shoryuken, and alligned himself with a returning Bronson Box.

Eugene's new alliance with The Original DEFIANT has many question marks over it right now, and only time will tell if those questions will be answered.
Gimmick
Eugene used to be a shy, chubby gaming nerd. He's developed over the years to become one of the most top wrestlers in DEFIANCE. Not through in ring skill, but through one hell of a heart and a never say die attitude.
Strengths
Reaction times - having played computer games all his life Eugene is able to react to events in the ring almost instantly. And his mom said that playing COD all day wouldn't help him achieve anything...

Unorthodox - Eugene's recent training has meant his previous moveset has now gotten shaken up with a more traditional style. He's still using the old Gaming inspired moves, but when they're threaded together with traditional wrestling holds and slams galore, Eugene's attack can leave even the most experienced wrestler unable to guess what's coming next.

Weight - Being on the heavy side means Eugene isn't going to get thrown around too much. It also means he has a large frame to throw at his opponents and do some serious damage.
Weaknesses
Social Skills - Eugene lacks most of the necessary social skills needed to progress in life.

Lack of Confidence - Despite being one of DEFIANCE's top stars Eugene lacks a lot of confidence in his abilities in the ring. While he might be able to absorb a lot of punishment, he's still limited in what he can dish out.

Mat Skills - Eugene has never been well versed in the technical aspect of wrestling, so his ground game leaves a lot to be desired. He's able to apply some basic rest holds, but his knowledge of submissions and how to escape them might as well be his glowing yellow weak spot.

Quotes
When Mario's told the princess is in another castle, does he shrug his shoulders and head home?
SHORYUKEN!!!!1