Biography | Wrestling | Promos | Appearances | Photo Album
Flex Kruger Biography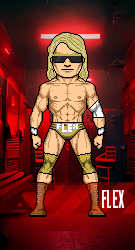 Personal
Physical Description
Ripped and shredded bodybuilder.
Gimmick
Power grappler. The Lord Paramount of Pectoral Perfection
Think Jonny Booya but less of an idiot, far from it actually. Flex is as shrewd as he is jacked to the ever loving gills. An old acquaintance of Don Hollywood and Rich Mahogany from their time working the indies in California, Flex also happened to already be on BRAZEN's radar as one of the initial pickups for the project.
Ring Attire
Blue trunks, black elbow pad, white boots.
History