Biography | Wrestling | Promos | Appearances | Photo Album
Thomas Keeling Biography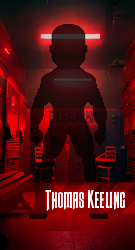 Personal
Real Name
Thomas Walter Keeling, Sr.
Nicknames
The Brains of The Family Keeling
History
Biography
The Family Keeling Talent Agency is a business promotion operating out of Burke, Virginia. They've represented stars from multiple sports ranging from the world of professional wrestling, MMA fighting, and boxing. This successful business has made The Family Keeling a very wealthy conglomerate. They've held success managing in other organizations including No Brand Wrestling, LoC and All-Star Championship Wrestling.

Thomas' son, Junior Keeling, led Team HOSS to the DEFIANCE World Trios Tag Team Championships and held them for days shy of a year, setting a record for longest reign and most defenses. Unfortunately, Junior got himself in major trouble when using company money to pay for a false positive drug test that resulted in the fixing of a scheduled Trios Title defense with the Big Damn Heroes. After losing the titles to the unlikely team of Lindsay Troy, Ty Walker and Dan Ryan, Junior and Team HOSS were subsequently all canned from DEFIANCE.

Enter Thomas Keeling Sr.

The father and true owner of the Family Keeling Talent Agency took DEFIANCE to court over the matter and for months, fought the charges that prevented Team HOSS from coming back, citing that they knew nothing of Junior's machinations. After an undisclosed settlement with DEFIANCE and a public apology being issued, Thomas Keeling has taken up the reigns of the careers of Team HOSS, albeit in new roles.

Junior is out of this shit. Thomas is now running a streamlined version of Team HOSS with Angel Trinidad as the singles star, Aleczander as his personal security, and Capital Punishment as Angel's trainer. Now that they're back... that means trouble for everybody.

But after attitude problems backstage by both Angel Trinidad and Thomas became too unbearable, the two were also canned.

But now Thomas is back with his son, Junior, in full force. Now c-managing "The Titan of Industry" Uriel Cortez, The Family Keeling are out for payback against DEF as a whole.