Biography | Wrestling | Promos | Appearances | Photo Album
Chance Von Crank Biography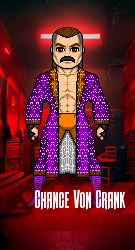 Personal
Real Name
Chance Von Crank
Alias(es)
Trailer Park Prodigy, The Shock-N-Rolla, The RazzleDazzler, The Prince Of The PullOut, White Trash Casanova, The Harlan County Devil
Hometown
Harlan, Kentucky
History
Biography
This is the story of the man known as Chance Von Crank...

In the hills of Eastern Kentucky on February 7th, 1983 a baby was born to Loretta and Hank Crank. The baby being the first and only for the couple after nearly 20 years of trying was named Chance. This name was chosen due to this being the last chance they gave each other at the possibility of having a child actually happening. Von being added to his name was due to the Von Erichs of wrestling fame. Chance at a very young age discovered his grandfather was a great in the business at one time. Oscar Crank, had wrestled all over the state of Kentucky before finally retiring in 1991 where he began to train and teach a still green Chance how the business worked inside and out.

Chance began using his ability to speak or "talk trash" early on in his days training in Atlanta, GA. Chance would use his ring entrance as his venue to speak as he walked out to speak. Downtown Eddie would become his manager during this time with his grandfathers blessing. He would be called "Superfly" Chance Bance, "FigureFour" Core, and many ridiculous and outrageous names before he settled on using his real birth name.

He would rule the indy circuit after finally becoming Shock-N-Rolla and backyard wrestling is where he would make his name known all over with videos that would be downloaded millions of times on the internet. During April of 2001 he was in a match in the middle of a trailer park in Virginia. He was on one of his indy backyard wrestling runs when he had one of the bloodiest matches ever recorded on film. The Trailer Park Prodigy was born that day. After a long stay in ICU he watched the video and was arrested for assault on his opponent who later retired from wrestling from injuries sustained from the match. He would be sued as well and the legal fee's would keep him broke until the mid 2000's.

In a match of late 2004 he was on top of a ladder and gave a look of reluctance before he dove off the top of the 30 footer. This is the moment he would forever be called The Reluctant One. He would wrestle for many different organizations throughout the south including EwW where he would polish is gift of gab. Nearly becoming the Heavyweight Champion before he was banned for life for piledriving an opponent off the top ropes which had a week earlier been banned from use ever by the president of that particular company. He would receive a call from Death Row Wrestling as he was just arriving home from the funeral home in Harlan Kentucky. His grandfather, trainer, and only real supporter of his lifelong dream, Oscar Crank was dead at age 84. Chance would go on after this to Death Row Wrestling.

In Death Row, Chance really became a star fairly quickly. Classic matches with Cancer Jiles in Prisons and even a Death Row title shot. He would wrestle for Death Row until he got another deal which soon after fell through. Wrestling in Mexico since August of 2012 he signed with Defiant.

Chance Von Crank bursts on the scene in Defiance in January 2013. He would win his first three matches. On his fourth match he would lose a thriller to Python on Retaliation. Later on in that night Crank would face 9 other wrestlers in a battle royal for the Southern Heritage Championship. He would eliminate four wrestlers including Python to win the Southern Heritage Championship.

The summer of 2013 Crank would hold onto the Southern Heritage Championship. Defeating all comers for his coveted title. During this time his wife Charlene came back into his life. He would abuse his wife on television drawing criticism. cVc would go on to defend his title against the likes of Walker, Tucker G. Alston, Lash Graham and Sam Turner Jr. Cranks wife, Charlene would get pregnant by STJ during the summer. He would later be blamed for her miscarriage after being framed by Chance Von Crank. He terrorized the new couple at every turn.

At Ascension Crank would put his title on the line against Alston and STJ. He vowed this would be they're last shot ever at his belt. Crank would nearly have his ear ripped off his head from a chair shot by Curtis Penn and then his head nearly taken off by Sam Turner Jr. He would be pinned by Tucker who got the one two three and the SoHer Championship.

Crank left for Japan with fire in his eyes winning his first two match ups against Eugene Dewey and Python.
Quotes
Go over to the corner and practice for when it's gonna hurt.
The cVc you remember is dead. You all killed him.
I Give More Teabags Than Lipton.
Them ego's you once wore on your sleeve has been fucking obliterated.
This shark smells blood in the water. Sensitive pussies everywhere all brace for impact.