Biography | Wrestling | Promos | Appearances | Photo Album
Chris Ross Biography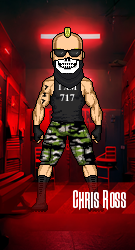 Personal
Real Name
Christopher J. Ross
Alias(es)
The Boss, The Keystone State Killa
History
Biography
Chris Ross is a man who grew up on the streets of Harrisburg. Not much can be said about his history. He graduated from the Lancaster Championship Wrestling school. He came to the UTA with a bold arrogance that immediately made him one of the most hated people in the entire company as well as one of the most controversial constantly going into swear laced tirades. Even going as far as telling his own boss Mikey Unlikely to go fuck himself on Twitter which resulted in a massive fine and required anger management classes which in the end some how had the opposite effect on Ross. But yet nothing has gotten Ross more hatred than the day he injured Impulse's girlfriend Calico Rose. No one thought Chris Ross would stoop so low but he curb stomped her face first into the seat of a chair. It was then that the man who calls himself The Boss discovered more success by utilizing his street smarts and thug tactics. That success in the end of the UTA lead to him winning the UTA Legacy Championship defeating Jack Harmen in one of the most violent street fights the UTA has ever seen. Now Chris Ross has come to Defiance representing the 717
Other Fed Titles
UTA Legacy Championship
Gimmick
Chris Ross basically is a man from the mean streets of Harrisburg. Constantly talking about the streets and representing 717 he takes great pride in his area. He's shown to bring the violence from the streets to the ring. Ross has shown to be a man who practically has no care for the rules and isn't afraid to pull out a screwdriver and stab people with it when the time is right. In Ross' mind on the streets a 3 count means nothing.... What matters in the end is who is walks out and who has to be carried out...
Strengths
Great variety of suplexes in his arsenal

Deceptively strong

Won't back down from anyone

Uses street smarts in his matches.

Weaknesses
Has 0 regard for rules at all whatsoever.

Very difficult to get along with.

Very bad temper and when he explodes no one is safe.