Biography | Wrestling | Promos | Appearances | Photo Album
Curtis Penn Biography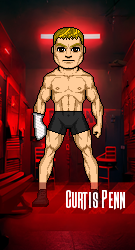 Personal
Alias(es)
King of Knees. Sultan of Strong Style. Earl of Elbows. King of Kicks. Head Honcho of Headbutts. DEFIANCE's Greatest Heel. Greatest Wrestler Alive.
Hometown
Pensacola, Flordia
History
Biography
Curtis Penn spent four years a FSU on a wrestling scholarship. Winning most of his matches and earning the captain spot for his team he learned responsibility and how to train. After he spent the state's money and earning the notoriety as the best wrestler in the State of Florida he decided to get into the sport of Mixed Martial Arts. He found a local training camp and began to train with them daily.

He was booked within the state for a few matches, earning a record of 2-1, he decided that he needed to work on his striking. He bought himself a ticket to Japan and found himself once again fighting for money. He found himself a couple of Americans that he soon called friends. They introduced him to the Japanese culture and helped him around the island. He was soon a member of the CHIMERA Fight Team. Once inside the group his skills grew from strictly wrestling to one of the best ground and pound fighters in his weight class.

CFT disbanded at the WC:C Year 1 show after Pete Whealdon turned on Curtis Penn and caused them to lose the WFWA Tag Team Titles to the Sex Symbols. Curtis Penn took time away from the ring and opened his own training facility in the Panhandle of Florida where he coaches and trains athletes by using the techniques and a work ethic he honed while with CHIMERA Fight Team and his time in the NCAA.

Other Fed Titles
WfWA World Tag Team Titles. Plenty of regionals
Gimmick
Cock sure of himself and everything that he does. Chicken Shit Heel.
Strengths
Speed
Agility
Flexibility
Weaknesses
Temper
Lack of Patience
Overconfidence