Biography | Wrestling | Promos | Appearances | Photo Album
Henry Keyes Biography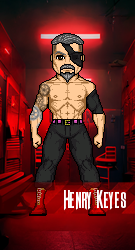 Personal
Hometown
San Francisco, CA
History
Biography
Henry Keyes looks like a man who was dropped from a hot air balloon from a different century - as such, not much has been revealed about the man's past up to now. What we DO know is that he's offbeat, he's oldschool, and he doesn't wait for trouble to hit him - he hits it first.

Things started innocuously enough for Keyes, making his debut against Luke Windham in a statement match that showed his resiliency and his bulldog-like aggression. It didn't take long, however, for Southern Heritage Champion Curtis Penn to catch his eye. The dastardly deeds he performed upon fellow newcomer Stockton Pyre made Keyes' first goal in Defiance crystal clear - take the man down.

Johnny Booya injured him for several months right as Keyes was finding his early groove. Unable to find a direct route to exact his revenge, Keyes has instead grappled with several up-and-comers in the DEFIANCE locker room, generally coming out on top. The cries for his signature Bell Clap grow stronger by the day, to the point where fans attempt to go for refunds if a Bell Clap is NOT landed.

Samuel Tiberius Turner II gave heated words about Henry Keyes and his role in the Southern Heritage division, and as a result, a wildly heated rivalry has emerged between the two. It blew up into a chaotic arena-wide brawl at AFTERSHOCK, and Keyes emerged victorious.

Keyes found himself in the warzone of the DEF*MAX tourney in a murderer's row of a block. He fought hard tooth and nail against the likes of Eugene Dewey, Mushigihara, and Bronson Box, and while he showed immense grit and toughness, he fell short against all three. He did score a surprise victory against one of the top talents in the company, Lindsay Troy, with a desperation BELL CLAP. As a result of the brutal and violent tournament, Keyes's already-problematic left arm sustained additional injuries; he had it examined by Iris Davine at MAXIMUM DEFIANCE, only to horrify the DEFIAfans with the truly horrific nature of the humanity under the brace. Dissatisfied that he would EVER get the treatment he needs from conventional medicine, he exited the arena accompanied by several Plague Doctors, and the (until-now, never ever verified) Airship made an appearance.

Several months later, he returned. Kelly Evans hoped that his mangled arm received the treatment it needed to bring him back in the fold, but Keyes has been ever the sly dog in revealing those sorts of details. Instead, he's refocused his efforts in piracy, fighting, and living in the moment - whichever moment he perceives the present-time to BE, that is.
Gimmick
An eccentric, steampunk-influenced oldschool brawler. Has a "fiery red-head" streak that leads him to turn down very few challenges, occasionally to his detriment.
Strengths
1) Bizarre in-ring style. While many of his moves have oldschool origins, he puts unique twists on them that throw opponents off their game.
2) Superior striking/ground game. Can wear down even the most well-conditioned athletes.
3) Powerful will. Rarely intimidated, even by the most menacing of opponents, though this plays into him being a real-life Roomba; sometimes, he really shouldn't be standing up to a wall of four monsters on his own. However, this means he can overcome certain obstacles that would otherwise seem impossible to a sane person. Might be too dumb to know better.
Weaknesses
1) He's a Roomba - he actively seeks out all that is filthy and vile and pursues it head on (almost on autopilot), often leading him to go diving into dangerous situations without enough planning or backup.
2) Out of touch with reality - Henry frequently lives within his own headspace.
3) Problematic left arm. Henry wears a steampunk-influenced leather brace that stretches from his shoulder past his elbow to help cope with chronic injuries, and while he can generally work around it, if an opponent decides to target that arm, he's in trouble.
Quotes
If yeh get the answer you want, then be done with it.
CODSWALLOP
What's a hand grenade? Is it something you wear? Like a glove?
Boy. You two act like you've never seen an arm before.
I barely register on Miss Kelly's radar. And besides…I Bell Clapped YOU, with that arm, in that brace. As long as I can keep doing THAT, I doubt she'll care about the underneath.